CHALLENGE YOURSELF. MAKE THE DIFFERENCE.

Do you attend a bachelor, masters or Ph.D. program?
The Angelini University Award challenges university students from all areas to develop projects for the health sector.
The moto of the 2018/19 edition is Mental Health. Don't lose this opportunity to learn and to contribute with your ideas!
HOW IS IT LIKE TO PARTICIPATE IN THE ANGELINI UNIVERSITY AWARD?
TAKE THE WORD FROM PAST PARTICIPANTS
Winners of the 2017/2018 edition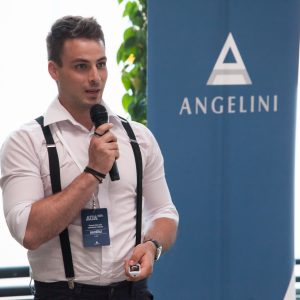 When I realized that a theme of the AUA 1st edition covers also managing of infections in hospitals, my participation was decided. In my dissertation work, I am focused to typing of multi-serum bacteria that cause infections associated with hospital care. The opportunity to present my results, to increase awareness and to get contacts for possible future cooperation have come to me as tempting. I only needed to create a team, send an application and start work on the project. Few months after we submitted the project, we faced to another test. A presentation of our project to a jury and then to whole final event auditorium, so that our relatively scientifically challenging topic was taken and convinced of its contribution. We have extensive experience with professional publications from academia, but this was really a challenge for us. Take skills, add attractiveness and clarity to colleagues from completely different disciplines, and engage them in a presentation style. All of this, thanks to the linking of the topic of nosocomial infections to the Star Wars world, has succeeded – the bacterial clones attacked, the typing force woke up, and new hope for patients finally emerged. We have convinced the jury, the audience was fascinated and we – with many experiences and new knowledge – finally took the first place. The Angelini University Award is a competition that brings lots of new experiences, information, contacts and ideas, and speaking for myself  I can just: "Go ahead, it's worth it!"
Matěj Bezdíček
Dita Říčná
We decided to apply for the AUA!2017/2018 competition because we were interested in the issue of antibiotic bacterial resistance, which is one of the greatest health risks today. We tried to analyze the issue and come up with a viable solution. We have decided to focus on patient collaboration with doctors. We developed our initial idea of ​​creating a mobile application for patients at regular meetings. Although none of us had in the beginning previous experience with application development, the more challenging the whole project was. While working on our project, we also tested, for example, the basics of marketing on social networks and the popularization of science. Participation in the competition is highly recommended!
Lukáš Pekárek
Filip Kaufman
Pavel Dědek
Vojtěch Vrba
Second place in the 2017/2018 edition