Challenge yourself. Make the difference.
Do you attend a bachelor, masters or Ph.D. program?
The Angelini University Award challenges university students from all areas to develop projects for the health sector.
The moto of the 2020/21 edition is Better Nutrition – Better Health / Lepší výživa – Lepší zdraví. Don't lose this opportunity to learn and to contribute with your ideas!
HOW IS IT LIKE TO PARTICIPATE IN THE ANGELINI UNIVERSITY AWARD?
TAKE THE WORD FROM PAST PARTICIPANTS
Winners of the 2019/2020 Edition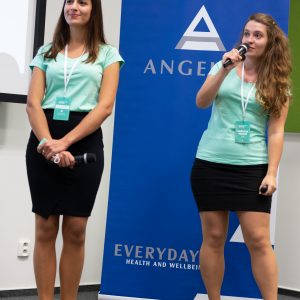 Angelini University Award gave us a unique opportunity to share our exciting results to people outside our field of research! We were able to convey the message of how important prenatal environment and placenta are in developing fetal brain and mental health later in life. The rules were clear and simple, the organizing committee was extremely friendly and cooperative, making the application procedure quite straightforward! The best part was the semi-finals and finals ceremony, held in VIDA! Science Center in Brno. Despite the stress over a tight 3-minute presentation, we felt warmly welcomed in a friendly environment which gave us confidence to do our best. The presentations by all teams were thought-provoking, so we got to learn a lot from other teams which were competing in the same topic – it was amazing to see in how many different aspects we can look at 'Mental Health'. Winning this year's Angelini University Award was the "cherry on the cake". We highly recommend all motivated and ambitious teams to take part in the next year's round with a very interesting topic 'Better Nutrition – Better Health', we can assure you that you will "enjoy the ride" 😊
Rona, Hana, Veronika, Frantisek
The AUA competition was extremely beneficial and enriching for our team @kpsychologovi. The main idea that one doesn´t have to be crazy to see a psychologist has been spread to other people thanks to the AUA. The project aims to help people on their way to see a psychologist, using a website and an instagram profile. We try to approach the taboo topic of the psychologist's visit with simple contributions and, above all, to make people aware that caring for their mental health is as important as it is physically. We try to make the contributions in such a way as to attract mainly the young generation and at the same time to show that psychologists are also only "people of flesh and blood". During this, a bit unconventional year, we came up with the #nekaslinasebe program within coronavirus situation, where we helped people not to go crazy from this period. Thanks to this, the online program #nekaslinasebe was created, in which 12 girls have participated for 1 month. Girls  learned how to stop on a normal day, do something for themselves and experience their emotions. Throughout our career, we have helped 290 people find a psychologist and have written more than 7,000 reports. The project @kpsychologovi is proof that when people from different fields come together with a great idea, everything works. And thanks to the AUA, we are spreading this idea.
Tereza, Petra
Second place in the 2019/2020 edition
Third place in the 2019/2020 edition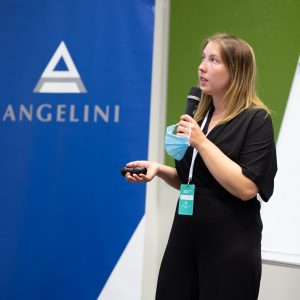 The whole competition was in a pleasant spirit and it was interesting to see the ideas of all talented participants in the competition. Our clinical team made it to get on the podium with the successful project "Education of psychiatric patients". Our team sought to improve patient collaboration through education and strengthening the patient's own responsibility for treatment. As part of the project we created an educational brochure, which helps patients at home to adhere to the treatment plan was created. The aim of our project was also to strengthen the interdisciplinary cooperation between physicians and pharmacists, which we also succeeded in in clinical practice. Many thanks to everyone for their support and we want to continue the project in full work in the future.
Jana